Documentation
Data Inspector
Data Inspector is a small table window that provides the service of "inspecting" (or interpreting) data currently selected in the edit pane. The Data Inspector table lets you view the type of data you have selected. This may help you interpret data as displayed in Disk Hex Editor.
The Data inspector window disappears when you click on another area in the explorer, and appears again when you return to the Hex Editor. There are ten types to choose from.
Open the Data Inspector:
Right-click in the edit panel and choose Data Inspector from the context menu.
From the Hex Editor toolbar, choose View > Data Inspector .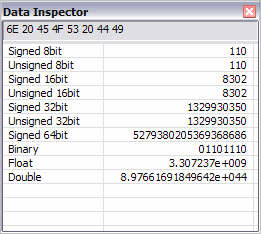 To change the way Data Inspector displays information:
Right-click anywhere in the Data Inspector window.
To show or hide any of the types displayed in Data Inspector:

Select Show.
Clear the check mark next to a type that you want to hide.
Select a cleared type to show it.

To change the way that values are displayed, in the context menu, choose one of:

Octal view
Hexadecimal view
Decimal view

To hide Data Inspector, choose Hide from the context menu.