Active@ UNDELETE ver. 7x
See documentation for latest version
Scan for deleted partitions
You can locate existing and deleted partitions on a physical device.
To scan a physical device for deleted partitions:
In the Recovery Explorer tree, select a device node under Data Storage Devices. Details of the selected node appear in the List pane.
To open the Disk Scan dialog box, do one of the following:

In the Recovery Explorer Toolbar, click Default Scan.
Right-click the selected device and click Scan > Deleted Partitions from the context menu.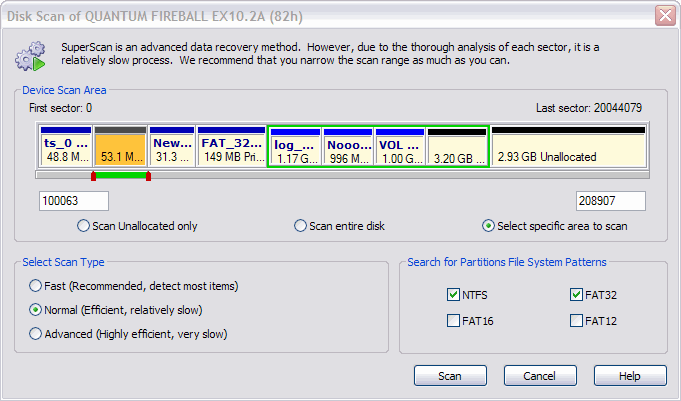 In the Disk Scan dialog box, you may:

Select specific areas to scan or you may scan the entire disk.
If you select specific areas to scan, use sliders or exact numbers to set boundaries of scan area.
Set the scan type to Fast, Normal or Advanced.
Search for default patterns, or you may select specific patterns to search for.

Click Scan. The Processing… dialog box appears.
To display scanning events and progress details, click Details.
To terminate the scan process, click Stop at any time. Results may be not accurate or complete.
After the scan completes or terminates, a Scan Results branch appears in the Recovery Explorer tree.
If you stop a device scan before it has completed, you may resume the scan from the point at which it was terminated. You may use nodes in the Scan Results branch for further actions. For more information, see Using Scan Results.