Restore a deleted partition wizard
This wizard guides you through simple steps to help you to detect and restore deleted or damaged partitions. The Restore Partition wizard guides you through three processes:
Detecting deleted or damaged partitions.
Analyzing the content of a detected partition and optionally modifying its geometry.
Restoring the partition.
To start this wizard, do one of the following:
From the wizards menu, click Restore Deleted Partitions.
Select the Partition Management tab in the command bar and click Restore Deleted Partitions
When the Restore Partition wizard starts for the first time, the first screen describes the process. Clear the "Show this page next time?" check box to avoid seeing this screen the next time you run this wizard.
Scan unallocated space
Select unallocated area by placing check marks in the data storage devices tree and click Next to continue.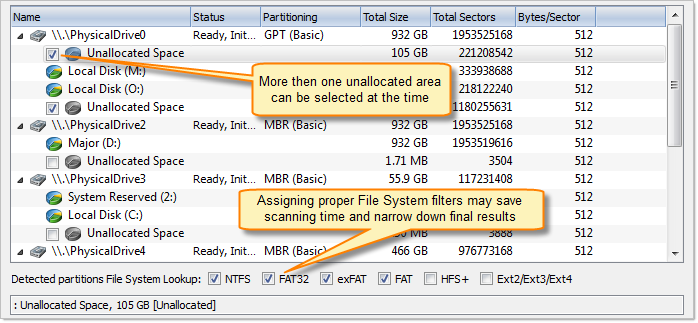 Page Options
File system lookup

Select File System of a partitions to be detected
Confirm and scan for deleted partitions
Review and confirm the unallocated space scan parameters and click the Scan button to start the scanning process. While the process is in progress, you can cancel it at any time by clicking Stop at the bottom of the screen.
Review scan results
Select the partition to restore from the list of detected partitions and, if partition can be restored, click the Next button to continue.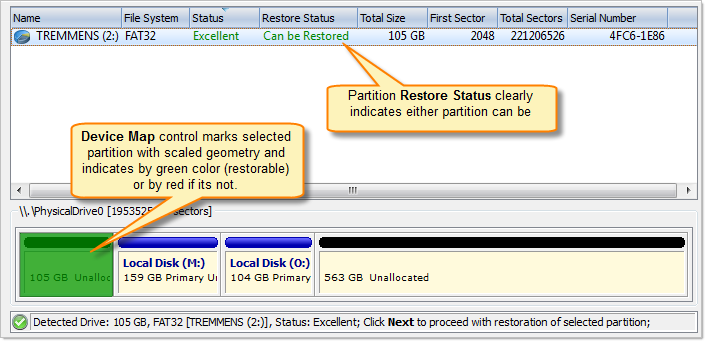 Confirm Partition Recovery
Review and confirm the partition recovery and click the Restore button to restore the selected partition. If the action is successful, the restored partition will appear in the data storage device area of the Recovery Explorer.