Active@ UNDELETE Ver 5.0
See documentation for latest version
Navigation with Active@ UNDELETE Explorer
To use Active@ UNDELETE Explorer efficiently, read the following notes about its main elements.
Explorer divided on Tool Views, Tree and File Panes as shown.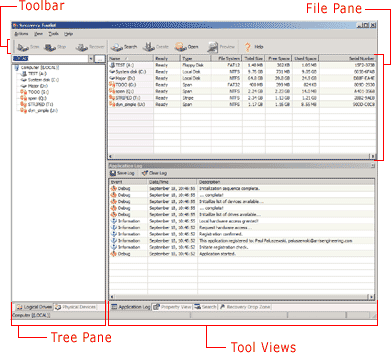 On Tree Pane you can switch between Logical Drives tree and Physical Devices tree.
Using Logical Drives tree you can:
Browse Hard Drive for accessible Logical Drives
Scan Logical drives
Browse Folders tree for specific drive
Create Logical Drive Disk Image
Using Physical Devices tree you can:
Browse accessible Physical devices
Scan device, using one of the three scan methods available
Create Device Disk Image
Browse the hierarchical structure of devices, - partitions, drives and so on
The File Pane is used to display the subordinate elements of currently selected item in on of the tree. Using the File Pane you can sort displayed list by clicking on column header (column, by which list has sorted will be highlighted).
The Tool Views extend detail level of selected elements and provide additional tools in context of your navigation.