Active@ UNDELETE Ver 5.0
See documentation for latest version
Scan Logical Drive for Deleted Files and Folders
Any accessible Logical Drive shown in Active@ UNDELETE Explorer can be scanned for deleted Files of Folders. To perform scan you can do the following:
Select Logical Drives tree by clicking on Logical Drives tab in Active@ UNDELETE Explorer.
Select any Drive item in Logical Drives tree. If this drive was not scanned before, one of two situations may occur:
Dialog Advanced Scan Methods appear, that allow you select one of the Logical Drive scan methods.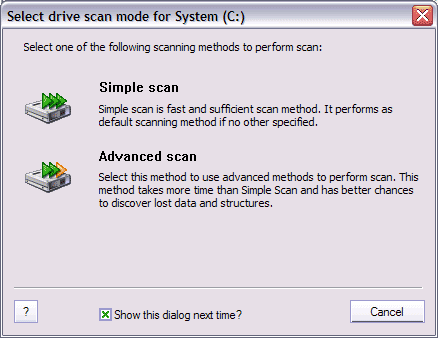 Click on Simple Scan or Advanced Scan button to start scanning or Cancel to abort. Uncheck check mark Show this dialog next time? to skip this dialog next time.
If the check mark on dialog Advanced Scan Methods once was cleared, than default scan method will be selected to perform Logical Drive scan - Simple Scan
Click Actions > Scan... and Simple or Advanced Scan in command toolbar.
Click selected Scan button in toolbar. To change Scan button command use drop-down arrow on right side of a button.
Right-click any drive item in Active@ UNDELETE Explorer. Click Drive Scan... and Simple or Advanced Scan to perform drive scanning, from the context menu.
When scan process start, you will be able to see progress bar in Status Bar, that indicate the scanning progress and new Log entries, describes the scanning process events. During the scanning, Stop button becomes available and can be used to terminate the scan process.
After scan of Logical Drives completes, you can browse the content of scanned drive by using Active@ UNDELETE Explorer.
If desired files or folders not found, try another drive scan method or use Scan Physical Disks recover logical structure of your devices.