Welcome view
Active@ UNDELETE is an advanced data recovery tool designed to recover data lost or deleted data, or even information from formatted hard disks.
This view appears when application starts and contains shortcut buttons for main tools, wizards and recent activity shortcuts divided in groups for easy access to Active@ UNDELETE features at application start.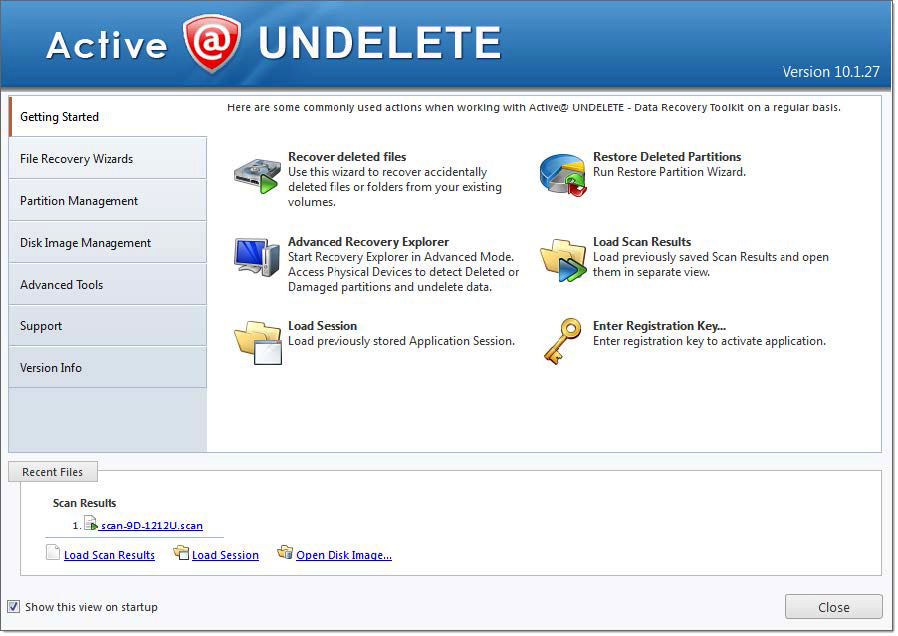 Figure 2: Default welcome view
Getting started
Contains most general starting points for file recovery and partition restoration.
Data Recovery Wizards
As it stated, on this page user can start file recovery wizards designed for different scenarios.
Partition Management
Allows to open Partition Manager or start wizards to create or format partitions.
Disk Image Management
Let to run wizards to create, open or verify disk images.
Advanced Tools
Advanced tools like open disks in Disk Editor, create Virtual RAID or decrypt files.
Support
Customer support and documentation.
Version Info
Contains version history and information about recent updates.
Recent files
Group of shortcut links to open recently used Disk Images, sessions or saved scan results.