File Organizer Overview
File Organizer is advanced tool designed to group and rename files, using their system attributes or meta attributes, before actual recovery.
Every file has system attributes like date (Accessed, Created and Modified), file type (defined by extension) and associated with that file type registered application. These attributes can be used to generate new file name or folder (group) for every file with the same attribute. In addition to system attributes some files, mostly media or images may contain meta fields such as artist name, title, album name and others. File Organizer also use these meta fields to group files in a folder with same attribute. Thus, File Organizer operates file organizing rules which defines folder grouping hierarchy and file renaming rules.
File Organizer is used in File Recovery wizards and in all views of Active @ UNDELETE that manipulates files:
To apply file organizing rule simply select it from drop-down Organize Files menu. File organizing rule can be also applied on folder or a group from context menu.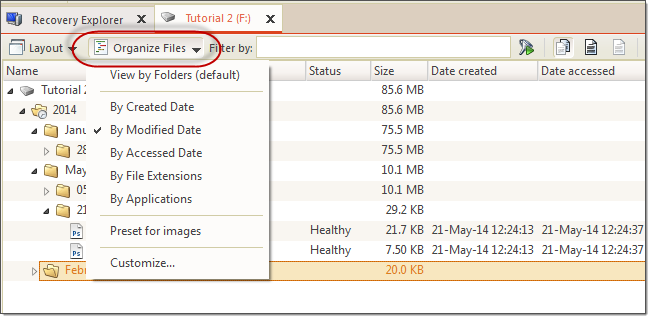 Files in presented view can be organized by applying grouping and renaming rule. There are several predefined rules ready to use:
By Created Date
By Modified Date
By Accessed Date
By File Extensions
By Associated Application
File organizing rule can be applied for all files presented in current view or for specific file folder or file group. To apply file organizing rule for all files in a view use toolbar drop-down button Organize Files and to apply rule for a folder or a file group - use context menu command Organize.
Customize file organizing rules
In addition to predefined file organizing rules, user can define custom file grouping and renaming rules and use them in a same manner as predefined. To create or edit custom file organizing rule select Organize Files

Customize command in view's toolbar where File Organizer is used. For more detail, read: Customize file organizing rule.
Renaming files
Files in file organizing rule can be also renamed (optional) by file name pattern, applicable for every processing file or by individually applied file name pattern, depending on file type. For more information read File renaming patterns by File Type.
See Also
File Organizer view
|
Customize file organizing rule
|
Customize file organizing rule
|
File attributes and meta tags