Work with logical drive scan results
Active@ UNDELETE is an advanced data recovery tool designed to recover data lost or deleted data, or even information from formatted hard disks.
General description
Logical drive (volume) scan results view displays all files detected after a logical drive scan.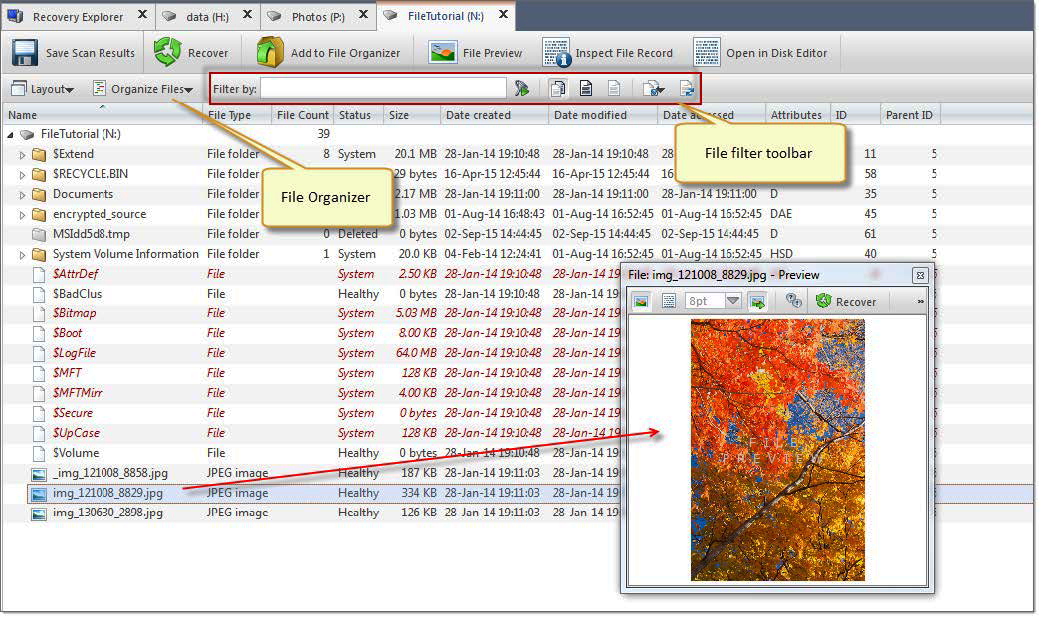 Figure 7: Volume scan result example
Drive Navigator
Show or hide left-sided navigation tree pane. To toggle this option use Layout > Drive Navigator menu from view's toolbar.
Organize files
Use feature to group detected files by:
File extension
Associated application
Date (created, accessed and modified)
and more
Read File Organizer for detailed information about grouping sets and customization.
File filter toolbar
This control is used to filter files in scan result. Read File filter toolbar control for usage information.
File preview
File preview is used to preview content and visually validate file before recovery File preview. To make scan results easier to read, you may do the following:
To sort the list by a column in ascending order, click the column header
To sort the list by the same column in descending order, click the column header a second time
To show a list that is reduced in size by a filter, select one of the preset options in the File Filter toolbar
Search in folders
If volume contains too many files or location of required files is unknown use Search for deleted files and folders feature — more advanced way to find files by their attributes and name patterns then simple filtering of contents of a scan. Search results will be shown in separate tabbed view and files can be recovered directly from search result as well.
To initiate search select context folder or drive (to search through content of all volume) and either:
Select Action > Search command from main menu
Click Search button in view's toolbar
Use context menu Search command or
Use F3 keyboard shortcut for the same effect
Use File Organizer
File Organizer can be used to collect files from different sources (scans) in one hierarchical collection and recovered in one batch applied the same recovering attributes for all selected file, like naming convention or file attributes.
To add file from scan result to File Organizer:
1. Select files in scan results using CTRL and SHIFT keyboard keys for multiple selection and
2. Select Action > Add to File Organizer command from main menu
Click Add to File Organizer button in view's toolbar or
Use Add to File Organizer command from context menu
Repeat these commands if necessary for the same or for different file sources (scan results).
Use Disk Editor
Files in this view can be edited in advanced hexadecimal Disk Editor. To open file in Disk Editor:
Click Open in Disk Editor button in view's toolbar or
Use Open in Disk Editor command in context menu
To view file record click Inspect File Record button in toolbar or use:
Tip: It is recommended to save scan results for later use.
When you have found all files you looking for — proceed to Recover detected files